Giselle Sanderson

Already a top 10 charting songwriter, a multi award winning,and nominated performer, Giselle has toured North America, opening shows and sharing stages with Brooks & Dunn, George Strait, Keith Urban, and The Nitty Gritty Dirt Band. (just to name a few from a long list). Giselle has worked on records with award winning producers David Foster, Chris Farren and Rick Hutt. She brings all of this experience to the table for her debut solo record.

Rob Kennedy

Rob has been an elementary teacher since 1991 in the Waterloo area, where he originally moved to in 1974. After receiving a Masters of Social Work in 1976, he worked with adolescents at a treatment center called Lutherwood. In the 90's after going to teacher's college, Rob began a new career teaching children in the elementary system which he continued to June 2013 when he retired. Although with no musical credits or awards to his name, Rob quietly pursued his passion behind the scenes with the help of people like Fred Smith, the producer for many of Rob's songs, who greatly assisted in bringing Little Red Poppy to the stage.

Rob would also like to thank two other members of his creative team - Matt Inglot of Tilted Pixel who was so instrumental in making the website easy to navigate and helping with the visual impact of the CD cover and Brigitte von Aderkas whose breathtaking pictures of the poppy were critical to the look we wanted for the CD insert. Lastly, Rob would like to thank his Mom Kathryn for putting up with all of those hours of playing an electric guitar in the back bedroom trying to learn those garage tunes of the sixties.

Other Songs by Rob

For further information or inquiries on any of these songs just use the contact page to get ahold of Rob Kennedy.





Press Coverage





Colette Denise Francesco

During the summer of 2015, I had the special opportunity to hook up with a trio of very talented artists living in Sault Ste. Marie, Ontario. With project manager Francesco Greco on piano and sisters Colette Chiarello and Denise Lacroix doing vocals, they put together and sang a beautiful French rendition of Little Red Poppy. Being a bilingual country, it has long been my desire to have this done. Their voices did not disappoint. Little Red Poppy became "Petit Coquelicot Rouge". For more information on this musical group please call or email Francesco at 705.971.2562 or faargreco@shaw.ca.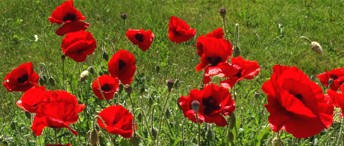 Need bigger text?: Most browsers can enlarge the page for you. Press the CTRL and + keys on your keyboard simultaneously to increase the size of the website, and CTRL and - to decrease the size.